A new trio album from a master of percussion versatility showcases jazz in its purest form. Joyful rapport between three top instrumentalists
Jeff Hamilton Trio Live from San Pedro
Jeff Hamilton (drums), Tamir Hendelman (piano), Christopher Luty (bass).
To refer to music as "easy on the ear" has become almost dismissive nowadays. However the work of Jeff Hamilton's trio fits that description and anyone who dismisses happy, swinging, masterly versions of great tunes and neat arrangements is missing out here.
As a piano player (admittedly from a much lower division in the world than the premier one that Jeff plays in), I have strong views on drummers.
He toured with Oscar Peterson for five years (1990-95) and that in itself says it all really. To fit in with Oscar, a percussionist would have to be subtle, unobtrusive but propulsive and happy to recognise that the piano player was the main man.
I saw Jeff with the Peterson trio at London's Festival Hall in about 1992 and he exemplified all the qualities mentioned above. Nevertheless he can also propel a big band when called on and has done so successfully with the Clayton-Hamilton orchestra, Count Basie and Woody Herman.
This new album embraces a nicely balanced selection from a bop standard, to show tunes and originals.
"In Walked Bud", based loosely on "Blue Skies" has become so widely performed as to be called a standard and the trio's treatment freshens up the number but without losing the essential "Monkishness".
A composition of Jeff's long-time friend and musical partner John Clayton "Brush This" features the drummer's renowned expertise with brushes and shows that percussion features can be tasteful and unflashy.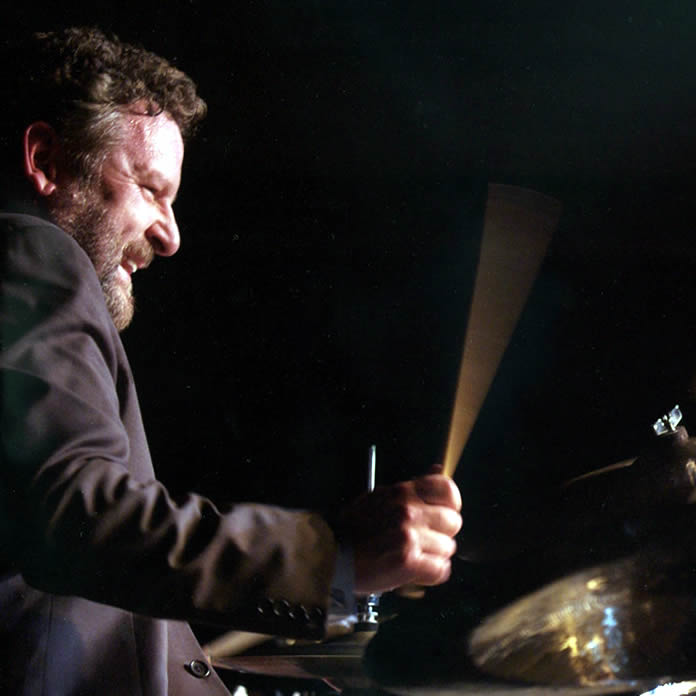 Picture Above: Jeff swings
"Poinciana" is played with a lovely light Latin feel featuring beautiful locked-hands piano from Tamir Hendelman. The leader mentions in his press notes that although this tune was a feature with the Ahmad Jamal group, the trio have followed bass colossus Ray Brown's wise advice that if you play someone else's music, make sure to "put a new dress on it". They certainly do!
If speed and swing can sometimes be contradictory elements, one virtuoso pianist shows how it's done in Tamir Hendelman's composition, "Bennissimo", a tribute to another virtuoso pianist and friend, Benny Green. This track steams along but always in perfect control.
All-in-all the trio combine swing, joy and melodic invention wonderfully. They never try to re-invent the wheel but easily do the things that can make jazz such a pleasure. A beautiful album.
I am reminded of a comment of some relevance from the great stylist, late British clarinettist Sandy Brown while escaping from a "difficult" unaccompanied sax solo performance. "While I respect the courage and determination of young men to push the boundaries of music further out, I reserve the right not to f***ing well listen."
---
Jamie Evans
Tracks: 1. Sybille's Day 2. Poinciana, 3. Hammers' Tones, 4. I Have Dreamed 5. In Walked Bud 6. Gina's Groove 7. Brush This 8. Bennissimo 9. Gary, Indiana 10. Hoosier Friend