In 1982, cornet player Digby Fairweather recorded his own tribute to Sandy Brown. The first 10 tracks of this album are a type of biographic record of the clarinettist from his Scottish beginnings. Like Digby's musical memorial, the other tracks, recorded in 1970-71 which include Sandy himself, are equally enjoyable.
Songs for Sandy
1-10. Digby Fairweather (cornet), Al Fairweather (tpt), John Barnes (clt, bs clt, alto sax). Alan Cooper (clt, bs clt), Peter Strange (tmb), Ron Rubin (bs), Brian Lemon (pno), Tony Allen (drs).
Other tracks include Sandy Brown (clt), Bruce Turner (alt sax), Tony Coe (tenor sax), Ray Crane (tpt), John Picard (tmb), Dave Green (bs), Bobby Orr (drs)
This album is a wonderful accompaniment to the preceding one (In the Evening). After hearing Sandy in his prime, here one can savour some of his musical associates paying their their respects to him.
I have to declare that I was specially delighted to review this CD because it features some brilliant playing from Alan Cooper (to whom this website is dedicated). Coops recorded far too little in his life so it is a rare pleasure to hear his original and totally unmistakeable work on clarinet and the bass version of the instrument Shame his name was omitted from the front-cover credits, though. An error and not a serious misjudgment of his importance I hope!
The structure of Digby's tribute is basically a musical biog of Sandy's early days in Edinburgh, his move to London and the evolution of his style.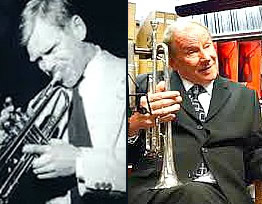 John Barnes's mournful clarinet on "Prologue" turns into "Sandy and Al", a 12-bar-blues, one of Sandy's favourite and oft-used sequences, followed by "Singing Away the Cold in Edinburgh", a reference to Sandy and Al, wandering the wintry streets and vocalising their music. The track has a sprightly Hibernian feel to it.
"It's Always Fairweather" features an electric solo from Al and some lovely work from Coops.
Picture Above: Al and Digby Fairweather - friends but not relatives.
"Hi-life in Hampstead" moves on to the north London area where Sandy and Al lived after they left Scotland. The West African influence which Sandy embraced so eagerly is beginning to show here.
Al Fairweather reveals his mettle as a worthy partner in "Sandy's Blues" and "Requiem fo a Weeping Willow" a sad track, as the title obviously suggests, is loosely based on another Brown original "Minstrel Song".
Digby's tribute finally turns its attention to tunes Sandy liked to play and which many of his followers would appreciate.
The old warhorse, a big Brown favourite, "Rosetta", kicks off with some beautiful clarinet interplay between Coops and John - a delightful contrast between the sweetness of Barnes' tone and the unorthodox, rough throatiness of Coops. There's some lovely grunting trombone from Peter Strange too.
"Everybody Loves Saturday Night" had, of course, been in the Fairweather/Brown repertoire from the very early trad days in Edinburgh while "Blue Turnin' Grey" must be unique to jazz recordings in that it features a bass clarinet duet between Coops and John.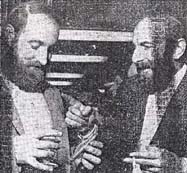 Picture Left:Terrible picture quality but this clipping is the only shot of Coops (left) and Sandy together that I have ever found
If it's not unique that combination has never been heard by this writer in many decades of jazz appreciation and I was reminded of my years at the piano behind Coops when he would produce his bass instrument sometimes making one of his stock announcements: "Ladies and gentlemen, the next tune, "Sweet Sue", will feature the bass clarinet. Not many people are familiar with this instrument. This is because there aren't many of them, few people play them and most are talking too much most of the time to be able to hear them anyway."
Digby's description of the Coops bass clarinet here can't really be bettered. "It sounds like a benevolent Jabberwocky whiffling through the tulgy wood! I think Sandy might have nodded in approval too."
The remaining tracks on this great album were all recorded in 1970 and most feature Sandy himself with top "mainstreamers" all of whom were associated with him at different times.
An unusually slow version of "When My Sugar Walks Down the Street" is a carefully arranged track without piano and drums while "Hanid" (not too hard to guess the chord sequence here) is a boppish outing for John Picard (trombone) with Tony Coe's tenor, as ever, delightfully hopping about the cracks in the tune's sequence.
All in all, the album is an extremely worthy tribute to a British master still missed by many of us, embellished by some great additional tracks.
---
Jamie Evans
Tracks: 1. Prologue/Sandy and Al. 2. Singing Away the Cold in Edinburgh. 3.Hi-Life in Hampstead. 4. Sandy's Blues. 5. Requiem for a Weeping Willow. 6.It's Always Fairweather. 7. Pal Sandy. 8. Rosetta. 9. Blue Turning Grey. 10 Everybody Loves Saturday Night. 11. Straighten Up and Fly Right. 12. When My Sugar Walks Down the Street. 13. Easy Living. 14. After Supper. 15. Hanid. 16. One for Sandy.