The discovery of the soundtrack of a French film directed by Roger Vadim was a wonderful gift for jazz lovers and the resulting double CD with an illustrated booklet is a must for all Monkophiles.
Thelonious Monk: Les Liaisons Dangereuses 1960
Thelonious Monk (piano), Charlie Rouse (tenor sax), Barney Wilen (tenor sax), Sam Jones (bass), Art Taylor (drums).
https://www.piccadillyrecords.com/counter/product.php?pid=114618
What could be more appropriate than the release of this splendid new double CD and booklet on the centenary of Monk's birth?
It is a double miracle that we ever got the pleasure of listening to one of the finest examples of Monk's art at all.
In 1959 Monk had been chosen to record the soundtrack of a French movie, "Les Liaisons Dangereuses". The pianist's eventful and turbulent life meant the run-up to recording the sound-track was clogged by complications of all types, particularly as Monk in 1959 was unable to leave the USA to work on the film in Paris with director, Roger Vadim.
Vadim probably better known for "liaisons amoreuses" rather than "dangereuses" for his well-publicised relationships with Brigitte Bardot, Catherine Deneuve and Jane Fonda, came over to New York with a carefully planned sound-track.
This meant little to Monk who - usually wearing his Ghanaian style "lampshade" headpiece - recorded only his own compositions apart from "Bye and Bye".
Coming forward to recent times, in 2014, two recording entrepreneurs were searching for unreleased recordings by Barney Wilen, the French tenor sax man who had played on "Les Liaisons Dangereuses" and in Miles Davis's band too at the age of 20.
A mysterious tape with a single name: "Thelonious Monk." was unearthed.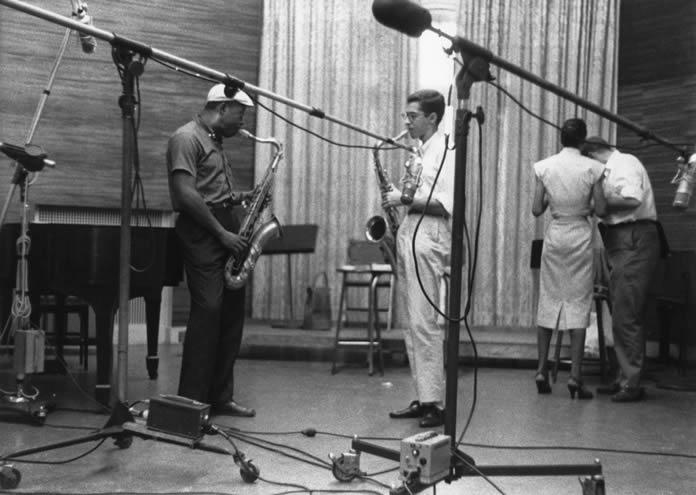 Charlie Rouse and Barney Wilen rehearse at the Nola Penthouse Sound Studios, New York. Picture courtesy of Alain Tercinet.
---
The seven reels of tapes, contained the soundtrack session from July, 1959, never released outside of the film. It was an emotional experience. "We exchanged hardly a word while we listened to the tapes," they said. "We had a jubilant, almost unsettling feeling that we were in the same room as the session that had taken place 55 years earlier."
A priceless hidden treasure had been found although it took nearly three years of planning to release the CD package and one of the many resolute people involved in the project compared it to finding a new Van Gogh painting.
The first disc in this beautifully packaged box contains the actual soundtrack used in the movie while the second one has out-takes and other tracks which are fascinating too.
There is little to be said about Monk's genius that hasn't already been written by far more erudite commentators than myself. The 56-page booklet that accompanies the discs makes great reading and adds a lot of value to the package.
The booklet includes some historic monochrome photographs of the recording session and several accounts of the whole setting-up and fruition of the project in a more erudite and knowledgeable manner than I could ever hope to emulate.
It is a new departure for me to write a CD review and not deal with individual tracks but the distinguished critic and journalist (and fellow jazz pianist), Brian Priestley has provided excellent analyses.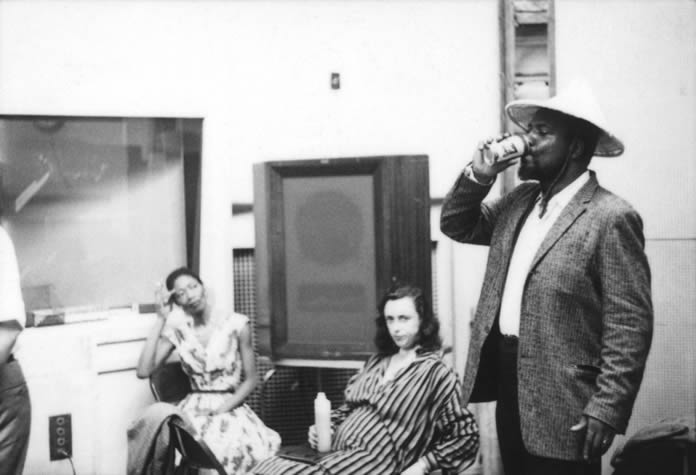 Monk takes some refreshment. Looking on are wife Nellie and Baroness Kathleen Annie Pannonica de Koenigswarter ("Nica") wearing stripes. Nica was a tireless jazz advocate and one of many getting the soundtrack project to fruition. Picture courtesy of the Arnaud Boubet collection.
---
I must, however, comment on a hilarious rehearsal on the making of "Light Blue" on Disc 2. Drummer Art Taylor was having problems grasping Monk's percussion instructions and the pianist was becoming increasingly less jovial as attempt after attempt ended in failure. But all ended well eventually.
This writer has never quite understood why some had difficulties listening to Monk. I first heard him in the mid-1950s when I was a mere kid aspiring to play jazz. I found his music logical and captivating.
Monk was the antithesis of my other piano hero, Art Tatum. It was once said by Oscar Peterson that his mentor, Tatum, hated silence. Conversely, Monk loved the value of minimum noise and lots of space. He had technique in abundance but only used it occasionally.
Two geniuses poles apart.
In conclusion, as an example of a piano player and composer colossus, captured at the peak of his career, it doesn't get better than this.
Jamie Evans
Disc 1
1. Rhythm-a-Ning, 2. Crepuscule with Nellie, 3. Six in One, 4. Well, You Needn't, 5. Pannonica (solo), 6.Pannonica (solo), 7. Pannonica (Quartet), 8. Ba-Lue Bolivar Ba-Lues-Are, 9. Light Blue, 10. We'll Understand It Better By and By.
Disc 2:
1. Rhythm-a-Ning, 2. Crepuscule with Nellie, 3. Pannonica, 4. Light Blue, 5. Well, You Needn't (unedited), 6. Light Blue (Making Of)