The USA might be the birthplace of jazz but here we review two CDs featuring some of the finest British musicians, one of whom, guitarist Jim Mullen (on both albums), must surely have reached 'national treasure' status by now.
So Farnon -So Good!
Nicola Farnon (bass, cello, vocals), Andrew Cleyndert (bass track 4), Jim Mullen (guitar}, Dave Newton (piano) Steve Brown (drums
http://www.nicolafarnonmusic.com/music/4585439428
First a confession. I don't normally go a bundle on female jazz singers and I had not come across Nicola Farnon before but when I saw the personnel accompanying her on this album I was licking my lips in anticipation.
If you had to pick three out of the top jazz pianists, guitarists and drummers in Europe, if not the World, you'd have to go no further than here.
Take that trio and Nicola's very fine, swinging double bass and you are in for a treat for starters.
As far as Nicola's vocals are concerned, I found her voice endearing. There are minor technical flaws, but the sheer force of her personality breathes life into the lyrics when she's being tender, romantic, sad or joyous. She also provides some lovely sounds on cello in Hoagy Carmichael's I Get Along Without You Very Well.
She can be funky, as in her own original, It's Just Got To Be That Way or plaintive as she demonstrates in I Should Care where piano, guitar and voice trade fours.
Rodgers and Hart's Spring is Here has almost been done to death over the decades but here Jim and Dave duet samba-style under the vocal and give the tune a really fresh feel.
For me the centrepiece of the album is an interpretation of a popular song usually associated with the Carpenters, Sing (A Song). The arrangement by Dave Newton and clever key changes set off Nicola's Blossom Dearie-style delivery.
The guita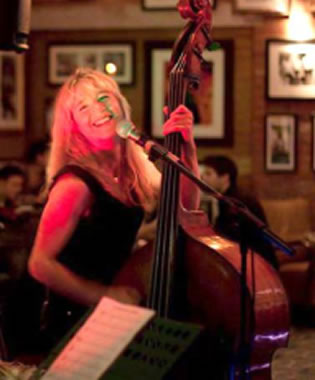 r and piano solos are both beautifully constructed statements and I never thought I would get so much enjoyment listening to a clever interpretation of a rather hackneyed pop tune of yesteryear.
An album well worth adding to anyone's jazz collection.
1. The Song is You
2. Spring is Here
3. Sing (A Song)
4. I Get Along
5. without You Very Well
6. Stay with Me Forever
7. Throw It Away
8. It's Just Got To Be That Way
9. Day In Day Out
10. She Must Be Beautiful
11. Smoke gets in Your Eyes
12. Please Don't Ask Me To Stay
13. I Should Care
14. It's Starting to Get Light
---
Jim Mullen Organ Trio - Catch My Drift
Jim Mullen (guitar), Mike Gorman (organ), Matt Skelton (drums)
https://www.amazon.co.uk/d/CDs-Vinyl/Catch-Drift-Mullen-Organ-Trio/B00IGAPNIK
The mighty Scots guitar man pops up again, this time leading his own guitar trio.
I have heard Mike Gorman on piano a couple of times in other contexts and thought how pianistic he is in his Hammond approach here, not trying to blast us all into oblivion with technical pyrotechnics like Joey DeFrancesco.
However I subsequently discovered that when the boys turned up to record this album the studio Hammond was kaput so they had to use a portable Nord instrument that Mike had in his car. You couldn't make it up could you?
Anyway for whatever reason this specific organ trio has a refreshingly laid-back sound and the creamy characteristic guitar is not overpowered.
All the tracks are some of Jim's favourite numbers and kicks off with a romping version of Deep in a Dream which pretty much sets the tone of the whole album - skilful and thoughtful improvisation.
Although Jim Mullen has moved a million miles from the fusion group he co-led in the '70s with the late and much lamented Dick Morrissey, one tune from their repertoire, You Can't Hide Love, is included to some effect.
I'm always a sucker for anything Dukeish and the trio ends the proceedings with a Strayhorn/Ellington mini-masterpiece, Daydream.
If you want a crash-bang, show-off organ trio, forget this CD but if you fancy some understated and generally tender music by three fine players this is very much for you.
1. Deep in a Dream 2. For My Lady 3. Samba de Aviao 4. Lonely Town 5. High Wire 6. Esquecendo Voce 7. You Can't Hide Love 8. Maxine 9. Declaration of Love 10. Daydream
Both reviews by Jamie Evans